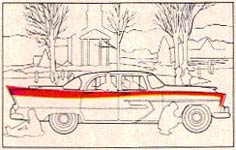 THE FLIGHT-SWEEP, newest note in car design, wraps up the idea of go in one bold stroke from headlight to crisply upswept rear fender!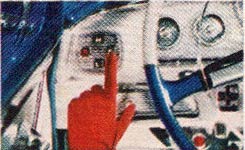 PUSHBUTTON POWERFLITE: merely finger-tip a button, step on the gas and away you go! It's on the left, where only you can reach it!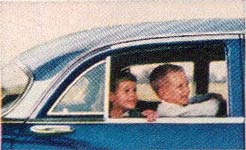 NEW SAFETY! New LifeGuard Safety Door Latches, added to the strongest body construction and the surest driving controls of any car!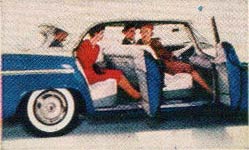 4-DOOR HARDTOPS in every price range! These are the only 4-door hardtops that have full-width rear doors and full-width rear windows!
PLYMOUTH BELVEDERE V-8 4-DOOR SEDAN
See Chrysler Corporation's Great TV Shows, "Shower of Stars" and
"Climax!" Thursday nights, CBS-TV
Drive the cars that do things for you .... other cars can't do!
Never have the differences between new motor cars been so great as they are today. And the differences are all in favor Of THE FORWARD LOOK '56 car owners!
While other cars have kept to their 1955 styling, THE FORVARD LOOK '56 cars are sure to win your heart with a design that's borrowed from tomorrow: The Flight-Sweep!
While other cars stand pat with selector levers on the steering post, THE FORWARD LOOK '56 after years of successful testing, brings you sensational, new Pushbutton PowerFlight!
While other cars retain conventional brakes, THE FORWARD LOOK '56 cars make driving surer and safer with new Hydraulic Braking Systems!
While other cars stay with part-time power steering, THE FORWARD LOOK '56 cars, alone, offer you the ease and control of full-time Power Steering!
In power, in safety and in smoothness of ride, THE FORWARD LOOK tales giant steps ahead.
No matter whether you choose a Plymouth, Dodge, DeSoto, Chrysler or Imperial, you'll discover, as millions have already, that THE FORVARD LOOK brings you a motoring experience you won't find in any other cars today!
See your dealer now!
THE FORWARD LOOK

CHRYSLER CORPORATION
PLYMOUTH - DODGE - DE SOTO - CHRYSLER - IMPERIAL